The Blockfence Snap
We're proud to announce that Blockfence has been chosen by the world's leading non-custodial wallet, Metamask, as one of the first approved Snaps. Metamask Snaps are expansion specifically for the Metamask wallet. They come built-in, eliminating the need for any external extensions or applications.
The Blockfence Snap for MetaMask wallet empowers you to evaluate the safety of your transactions before giving them a green light. This ensures you steer clear of scams and fraudulent activities. Moreover, Blockfence Snap consolidates information from industry security leaders, providing clarity on the dAPPs you engage with, the contracts you transact with, and much more.
FAQ: Start Here
Installing the Blockfence Snap
The Snap's features: How to use
The snap will pop up automatically whenever a new Transaction with the analysis insights,
Review it before to make an informed decision before accepting a transaction.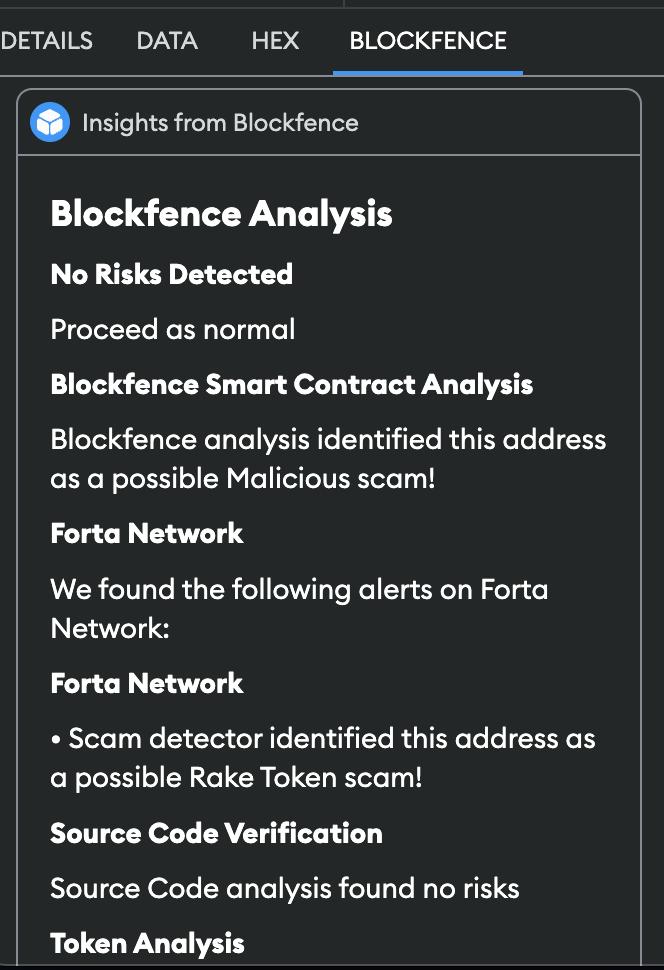 No Risks Detected: Will flag that no specific risks were found associated with the given transaction and/or website.

Risks Detected: This indicates that we found a security risk in your transaction, and you should likely reject it, even if you trust it.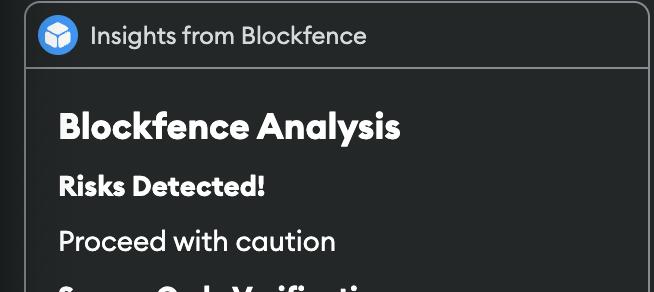 What does the Blockfence Snap do?
The Snap runs a risk score check for a given pre-signed transaction and returns the findings for the user to decide whether to approve or reject the transaction.
What does NOT the Snap do?
The Snap

doesn't collect any personal data, including wallet addresses and transaction IDs.

 

The snap does not provide any investment advice.
Every day, there are new scams. How does Blockfence protect against them?
Our aim is not only to recognize existing scams but also to foresee those yet to emerge. To achieve this, we harness the power of advanced machine learning and AI algorithms to predict new scams and fraudulent schemes. Our vigilant research team also operates 24/7 to uncover novel scams and trending patterns.
We understand these measures alone are insufficient; we need to function as a cohesive ecosystem. As a result, we've joined forces with industry frontrunners to develop the premier, all-encompassing ecosystem and community-centered anti-fraud solution, delivering the most extensive protection for you. While 100% coverage may be unattainable, we are committed to pursuing a 99.999% success rate.
Check out Blockfence in action, detecting high-risk scams just before the victim gets scammed:

Why should I trust Blockfence?
To ensure our code is safe, we have implemented a rigorous release pipeline involving multiple tests and scans to provide our users' with the utmost security. Our browser extension has undergone static code analysis by Sonarqube, dependency analysis by Dependabot, and semantic code analysis by CodeQL, all of which have been successfully passed.
On top, we're a world-class team with rich experience building enterprise-grade security products from companies like PayPal, Meta (Facebook), and special intelligence units, joined by crypto OGs.
In addition, Blockfence has zero allowance over your funds and can't sign transactions on your behalf. We're here only to explain what you're about to sign.
Who needs to install Blockfence?
While beginners could find value in taking their first steps in the crypto and Web3 ecosystem, the Blockfence story started because one of our closest friends, an experienced crypto OG, signed a malicious transaction that drained his wallet by mistake. Within seconds, he lost a high 6-digit USD equivalent. If it happens to him – it can happen to anyone.
Blockfence and privacy: What personal data does Blockfence collect?
We don't know anything about you. To download Blockfence you don't need to provide any personal details such as your name, email address, location, or IP address.
We collect only the specific information needed to identify potentially dangerous transactions without compromising privacy. We gather the following data:
The URL of the current website to monitor and detect phishing sites (the feature can be disabled via the Settings menu).
Transaction details, which are already publicly available on the blockchain.
Moreover, we don't collect or store but only verify this information ONLY when the user manually engages the extension (by scanning a specific address) or is about to execute a transaction using their wallet. The latter option can also be disabled via settings.
The Team: Who's behind Blockfence?
We're a world-class team with rich experience building enterprise-grade security products from companies like PayPal, Meta (Facebook), and special intelligence units, joined by crypto OGs with over a decade of experience within the crypto ecosystem
Do you have any feedback or questions for us?